Hi! I'm building a new system
1
, so i ran memtest (v4.2.0) overnight with the default settings. By morning, it had reported 2 errors, both in test 6 (Block Move) and both in a very small range of the bottom 1MB of memory (
0x000000140f0 - 0x000000140f8
).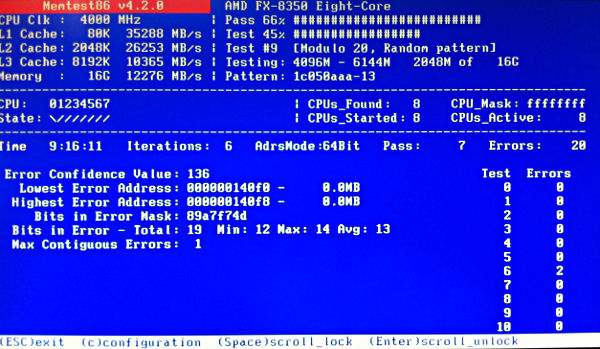 I then selected only test 6 and only the bottom 1MB (0-1m) and sure enough, that area failed consistently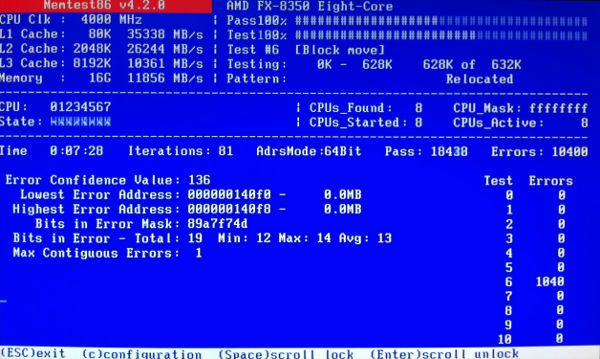 If i change the CPU selection
to anything other than parallel,
i cannot reproduce the failures
.
I swapped the two DIMMs
and (with parallel cpu)
the error persists, but stays at the same address
.
Given all of this, i'm tempted to conclude that the memory is okay, but there is something weird about the following combination:
parallel CPU mode
low addresses (in particular, it may be worth noting that i'm using the onboard video)
Test #6 [Block move]
Has anyone seen anything similar? Should i worry about the memory or the system? Any more data i should provide? Any more tests i should run? (I don't think i have any other DDR3 sticks, but i can look)
Thanks!
--Rob*
[1] AMD FX 8-core cpu / MSI 760-GM-E51 (FX) mainboard / Patriot DDR3 1333MHz 16GB (2x8GB)